Transform Your Laboratory Temperature
Monitoring System
From an Old School Fail-and-Fix to a Smart Predict-and-Prevent™ Asset Intelligence Solution.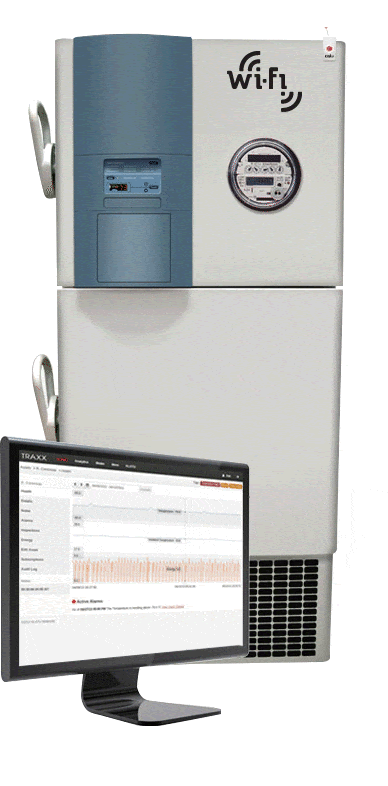 Introducing TRAXX/EKG™
Monitoring 2.0™ software from KLATU Networks, the #1 provider of predictive monitoring and wireless IoT sensors to 8 of the top 10 largest Life Science Companies.


It's a fact: 95% percent of KLATU customers who buy TRAXX are replacing an existing laboratory temperature monitoring system. Why? Because TRAXX provides asset benchmarking tools to proactively identify which units require maintenance based on an assessment of their state-of-health.
KLATU customers use TRAXX to achieve near zero breakdown performance by switching from reactive to condition-based maintenance. This reduces down-time while also reducing total maintenance and repair costs.
TRAXX provides world class refrigeration monitoring with flexible alarming and notification escalations and it is the only system with predictive failure analytics, protected by US and international patents.

TRAXX/SCORE™
A New Industry Metric for Measuring Asset State-of-Health
Don't Wait
Most Monitoring 1.0 systems are not designed with predictive failure detection features and cannot detect stress-events that are early indications of failure.
Act Early
When Monitoring 1.0 systems issue a setpoint alarm, it is often several hours after equipment failure. With TRAXX, you will learn when an asset first exhibits signs of mechanical stress.
Pay Less For Repairs
Repairs after a failure has already occurred are typically three times more expensive than when the issue is caught and repaired early
Why Do Failures Occur When You Are Not There?
Failures rarely occur during business hours because 75% of a 168-hour week is after hours—nights, weekends, and holidays.
Change Your Game
Maintenance issues are predictable. With TRAXX, repairs can be managed on your schedule before they result in unplanned maintenance and downtime.
TRAXX Delivers the Future Today
TRAXX identifies underperforming cold storage assets. It's a new tool that can reduce energy consumption by 20%, repair costs by as much as 30%, and HVAC loading by 15%. Because of these improvements, asset life can be extended by two years on average.

TRAXX metrics can also be used to identify which makes/ models to purchase, retire, or repair. It's also a valuable tool to determine which assets should or should not contain high-value research and products.

TRAXX is a cloud-based application and it performs the same at your work or in your home office.
TRAXX allows you to avoid catastrophic product losses (often exceeding $1 million) and lost time due to unplanned equipment failures.

Save Energy
Did you know that about 50% of freezers are wasting an average of 22% in energy consumed? Or that reducing cabinet temp by 10ºC can return a savings of nearly 30%.


Proactive Repairs
Making repairs early versus after failure reduces repair costs by an average of 30%. If done before failure, 70% of repairs made early cost less than $300.


Prevent Catastrophes
The avoidance of catastrophes is just one reason eight of the top ten largest Life Science companies have invested in TRAXX. In one documented event, the TRAXX system gave the customer a 3.5-hour early warning (on a weekend) of a compressor failure avoiding a $2.5 million loss—several hours before a temperature alarm would have been issued by a conventional Monitoring 1.0 system.


Increase Asset Service Life
Freezer over/under compressor cycling wastes energy and decreases asset service life by approximately 20%. When operating in this stressed mode, it is common for ULT freezers to still maintain -80ºC temperatures. Most scheduled preventative maintenance inspections would not detect abnormal cycling behavior because it typically takes days or weeks to accurately detect.

Stay in the loop by subscribing to the blog.