April 2021 — Monitoring 2.0 Technology featured in Labcompare
Monitoring Technology 2.0: Replacing Cold Storage Monitoring's Fail-and-Fix Model with Predict-and-Prevent™, a thought leadership article featured in Labcompare, a Buyer's Guide for Laboratory Equipment.

Remote laboratory monitoring systems have saved billions of dollars worth of samples by sending critical temperature alarms when a freezer or other lab equipment fails. When this happens, almost inevitably at 2 am on a weekend, the engineers and managers must report to the lab to move and secure the samples. However, sometimes by the time the alarm sounds, it is too little too late, resulting in the loss of priceless research or production inventory. But this doesn't have to be the reality for the cold storage industry.
March 2021 — The Future is Now: An Interview with Authority Magazine
KLATU's CEO Rick Kriss discusses with Fotis Georgiadis of Authority Magazine how KLATU's technological innovation will shake up the refrigeration Industry.

When I am lucky to be invited to the conversation, I often ask what catastrophe was avoided and what was in the cold-storage unit? The number-one answer is: "priceless and irreplaceable research which would take years to replace," and the number-two answer is: "biologics worth millions of dollars." In 10 years, I have never heard, "just some low-value stuff."
February 2021 — The Case for Cold Chain and Monitoring 2.0 with Harbor Research
KLATU's CEO Rick Kriss and COO Chris Wilkes sat down with Glen Allmendinger from Harbor Research, a well-known strategy and consulting firm with over 30+ years' experience in the IoT industry, to discuss cold-chain monitoring.
Listen to learn more about how predictive failure analytics is changing the industry from the traditional fail-and-fix monitoring 1.0 technology to smart predict-and-prevent monitoring 2.0 technology solutions.
November 2020 — 3rd U.S. Patent Granted to KLATU Networks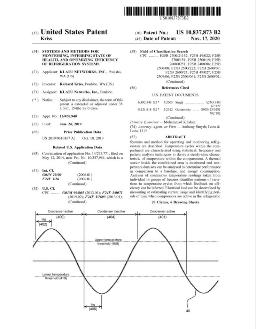 San Diego, CA, November 17, 2020 — The US Patent and Trademark Office has awarded KLATU Networks™ its third patent for benchmark scoring the mechanical health, reliability, and energy efficiency of cold-storage equipment using vibration sensors. When combined with previously issued patents for temperature and current, the addition of vibration sensing enables KLATU to determine with greater precision the early onset of mechanical stress and wasted energy in pumps, motors and HVAC equipment as well as refrigeration equipment.
TRAXX/EKG™, KLATU's cloud application for asset monitoring, alarming, energy bench-marking and predictive failure analytics is widely deployed as a mission critical application for managing deep-frozen and laboratory refrigeration systems in eight of the top ten largest biopharma companies in the U.S.
TRAXX/Score™, a proprietary metric developed by KLATU and similar to FICO® score, is used by KLATU customers to make smarter repair, purchase, and asset retirement decisions based on objective measures of asset health, reliability and energy consumption.
October 2020 — KLATU Networks Announces the Launch of Pi'Per™
KLATU'S latest Wi-Fi sensor platform provides low-cost connectivity with TRAXX™, a powerful cloud-based predictive failure analytics platform for monitoring the real-time status, health and energy efficiency of refrigeration and incubation equipment. KLATU Networks, Inc. has launched PiPer, a new low-cost multi-probe Wi-Fi sensor device called a Mote, which connects mission critical cold-storage and incubation equipment with TRAXX, KLATU's patented, cloud- based predictive failure analytics system. With payback of less than three years, the PiPer platform is a new tool enabling the transformation from old school Fail and Fix set-point monitoring, to modern Predict and Prevent™ maintenance practices.
PiPer is a proven device that enables proactive management of mission critical assets – extending service life, reducing repair costs, predicting failures, and ultimately avoiding catastrophes. PiPer Motes are low cost, wireless sensor devices that connect lab equipment to TRAXXCloud™ , a powerful analytical platform for predictive and real-time monitoring. PiPer transforms a Raspberry Pi into an IoT multi-probe sensor device with the power of a desktop computer by the addition of industrial grade USB sensors and KLATU's TRAXX/OSTM software. Using existing Wi-Fi infrastructure for sensor-to-cloud communications and compatibility that supports WEP/WPA/WPA2 security protocols, KLATU provides the industry's most reliable system as measured in terms of uptime.
Rick Kriss, KLATU's Chief Executive Officer, described PiPer as a low-cost option for deploying IoT connectivity across an organization's equipment, based on the ubiquitous Raspberry Pi. According to Kriss, Raspberry Pi has an installed base of 30 million devices; it is used in thousands of commercial applications and is widely available for easy access to the powerful TRAXXCloud.
ABOUT KLATU NETWORKS
KLATU Networks, Inc. delivers wireless sensor network solutions helping Life Sciences companies optimize the management of cold storage assets and other mission critical laboratory equipment. Our products enable customers to manage risk, reduce operating costs, achieve energy savings, and sustain near-zero breakdown performance by transforming traditional maintenance practices from Fail-and-Fix maintenance practices to Predict-and-Prevent™ methodologies.
September 2019 — Chris Wilkes Joins KLATU as Chief Commercial Officer
Chris Wilkes has joined KLATU Networks as Chief Commercial Officer. Chris brings years of experience in the life sciences tools market. Chris started as a molecular biology R&D scientist, and throughout his career led teams in developing and deploying products with a focus on product and lifecycle management across Medical Devices, Molecular Biology, and Biotechnology. More recently, and prior to joining KLATU, Chris led three different business units within Thermo Fisher as Vice President and General Manager.
Connect with Chris on LinkedIn