San Diego, California—Based on its success predicting failures in laboratory refrigeration systems, KLATU is proud to announce the award of its seventh patent for Monitoring and Predicting Failures in mission critical LN2 cold-storage systems.
US Patent 11709075 titled MONITORING AND PREDICTING FAILURES OF SPECIALTY EQUIPMENT INCLUDING LIQUID GAS STORAGE SYSTEMS was recently awarded to KLATU describing a novel approach for predicting failures in liquid nitrogen storage systems, using Artificial Intelligence (AI). In comparison to traditional monitoring and alarm systems which are based on setpoint temperature or liquid level alarm monitoring, TRAXX AI can predict failures in LN2 equipment and supply systems much earlier by analyzing changes or unusual patterns in LN2 consumption or fill events.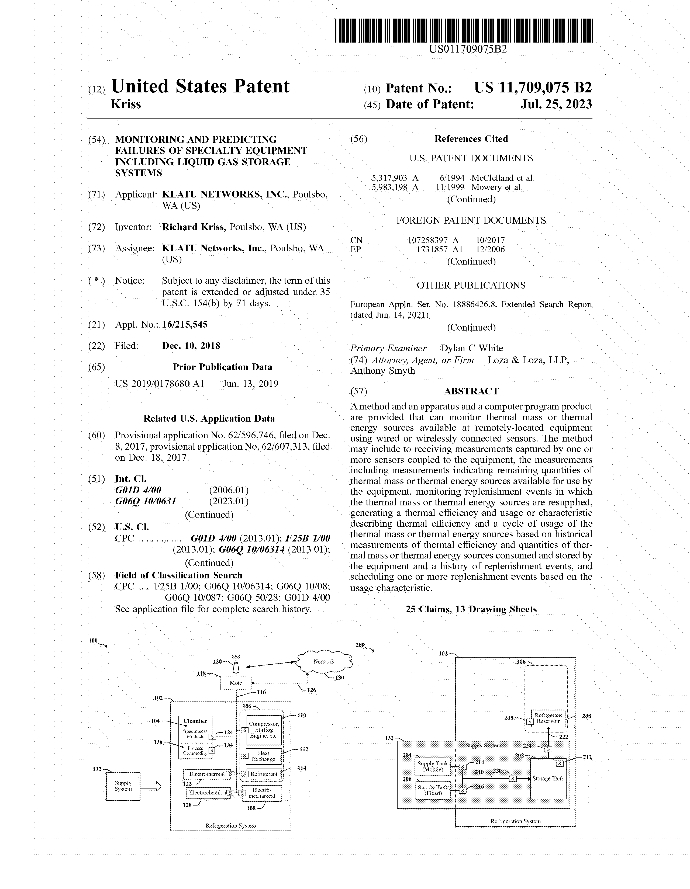 Rick Kriss, President of KLATU Networks, says "for more than fifty years, operators of LN2 storage tanks and other mission-critical cold storage systems such as ULT freezers, refrigerators, and walk-in rooms have accepted catastrophic product losses, high energy and repair costs, and reduced asset service life as a cost of doing business, when fail-and-fix maintenance practices are thought to be all that is available.
New predictive analytics technology from KLATU, marketed under the trademark TRAXX.ai™, has the potential to change the game by warning hours, days, weeks or months before traditional monitoring will issue an alarm, of imminent failure while the asset is still maintaining temperature.
Kriss referred to news reports of devastating product losses at Harvard, the Pacific Fertility Center, and Cleveland's University Hospital—where 4,000 eggs and embryos were lost alleged to be due to a malfunctioning remote alarm system. In one case, the never event resulted in a $15 million jury award which Kriss described as a stark reminder that there are financial consequences when LN2 freezer failures occur.
Share your thoughts on LinkedIn
ABOUT KLATU NETWORKS

Marketed under the TRAXX/EKG™ brand name, KLATU is a leading provider of wireless Industrial Internet of Things (IoT) sensors and cloud-based predictive failure software, targeting mission critical cold storage systems in the Life Science and Pharmaceutical industry. Today, eight of the top ten largest Life Science companies in the USA rely on KLATU's predictive analytics to maintain mission critical refrigeration and cell-growth equipment, protecting billions of dollars of pharmaceuticals and life science research.
Under development for more than a decade, the research behind the development of TRAXX.ai is supported by training data from KLATU's database of more than 20 billion records of sensor data from thousands of assets operated by hundreds of tier-one customers.
KLATU is based in San Diego, CA with operations also in MA, WA and UT.