Monitoring 2.0 allows you to save energy, reduce maintenance costs, and extend the useful life of your Ultra-Low Temperature freezers, laboratory freezers and refrigerators, LN2 storage, incubators, cold rooms, and other lab equipment.
Research Teams
Prevent sample loss and avoid late night alarms
Operations
Provide a window for large fleet management and research allocation
Integrations
TRAXX integrates with common building management systems. See more
Quality Control
Help avoid time consuming documentation by avoiding failures
Finance
Average ROI is less than 3 years
Procurement
Flexible buying models can help manage CapEx against OpEx
Sustainability
Provides real time data on energy usage and useful tools for modeling energy
Leadership
Streamlined operations and visibility into cost and management of equipment
TRAXX Analytics
Our financial planning tool helps identify opportunities for energy savings by replacing older units with new energy efficient models.
Multiple screens
provide actionable data
Easily view
unit summaries
Identify problems faster
before they result in failure
See energy usage
and warning flags in an easily sortable way
On average, 30% of cold storage units are not operating efficiently. In most cases (73% in one customer study), the problems can be addressed without expensive compressor repairs. If those problems are ignored, units will have a shortened life and consume significantly more energy.
TRAXX/CLOUD™
A battery-operated wireless transmitter called the TRAXX Mote™ is attached to each freezer. The TRAXX mote gathers temperature and energy data constantly and delivers it to KLATU's cloud-based monitoring system via your existing Wi-Fi network.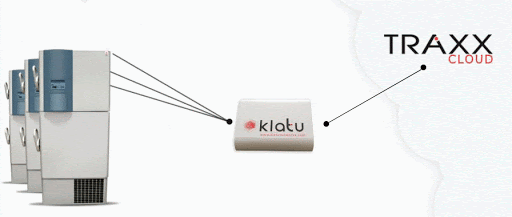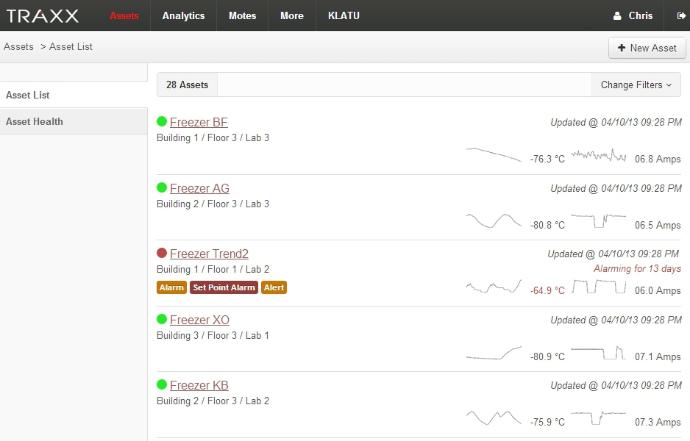 TRAXX Labs Asset List
Easy-to-use web interface provides relevant data wherever you are. Filter, sort, or drill down to discover more details. Check the health of your assets from your smartphone, tablet, laptop, or desktop.
Analyze
TRAXX analyzes the sensor data for alarms and detects changes in health, performance, and energy consumption over time. Detected changes may indicate the emergence of a maintenance or repair issue—an issue that will likely result in expensive repairs, higher energy costs, or failure if not corrected. Studies have shown that 10% of freezers are about to fail, even in facilities with monitoring and active preventative maintenance.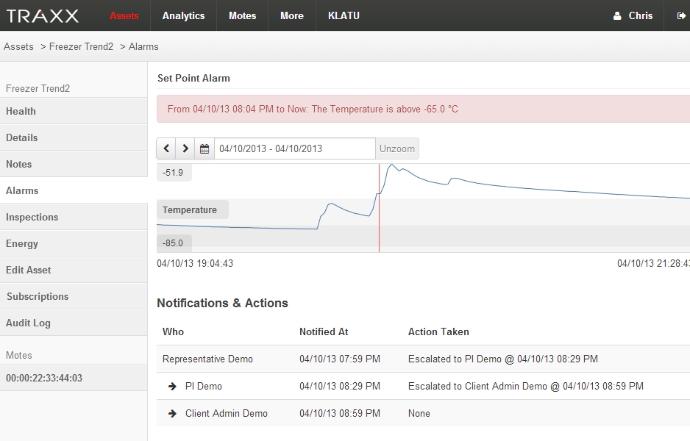 Mission Critical Alarming
Drill down to just the most important details for each alarm. Be notified via email or text message.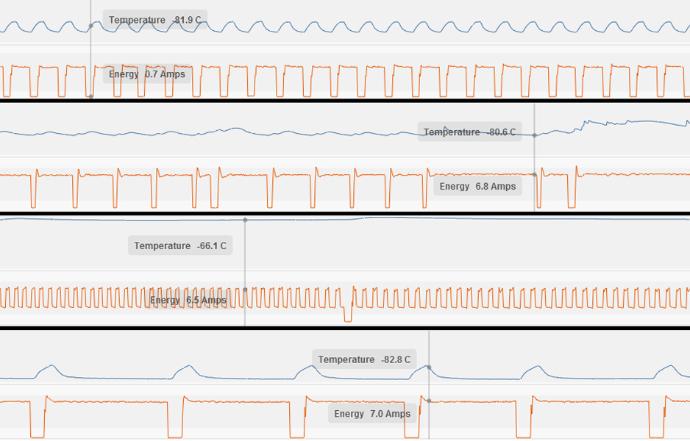 Reliability: Good, Bad, and Ugly
TRAXX analyzes data from all freezers 24/7/365. Here are four different -80º ULT Freezers. TRAXX is able to identify bad and ugly freezers from the first day of installation.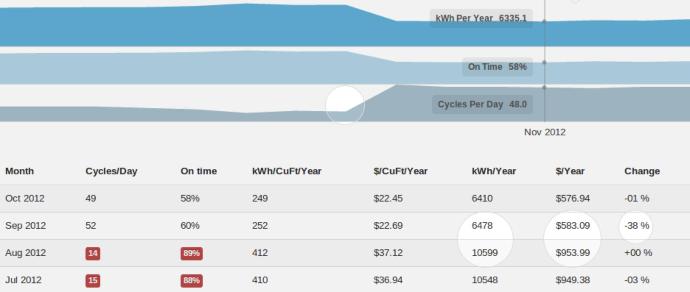 Optimize
Once TRAXX has alerted you of at-risk assets, you can proactively address the issue. It allows you to move from a maintenance approach of "Fail-and-Fix" to one of "Predict-and-Prevent". See the benefits of your actions in fewer failing freezers, lower overall repair costs, lower energy bills, increased lifetime of freezers and a reduced risk of specimen loss.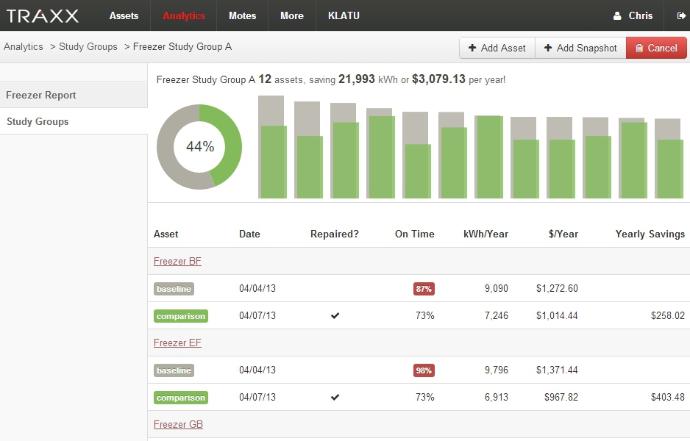 Reliability
Study Groups are a tool for monitoring and measuring the effectiveness of repairs on your freezers. Our Study Group Reporting Tool facilitates before and after comparisons which allow you to measure the energy and cost savings resulting from a repair.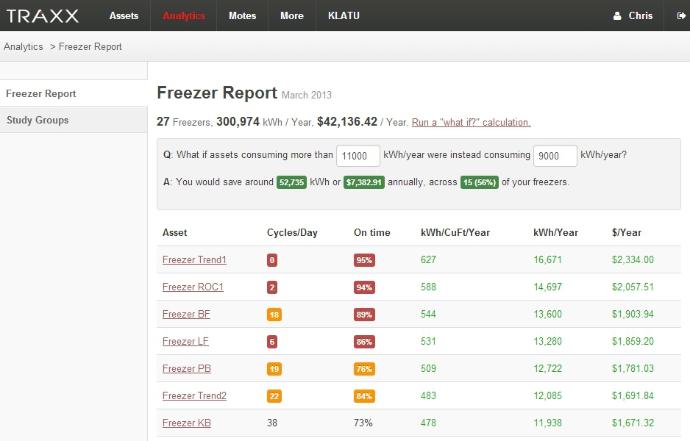 ROI on Repairs
Easy-to-use web interface provides relevant data at your disposal. Filter, sort or drill down to discover more details. Check in from your smartphone, tablet, laptop or desktop.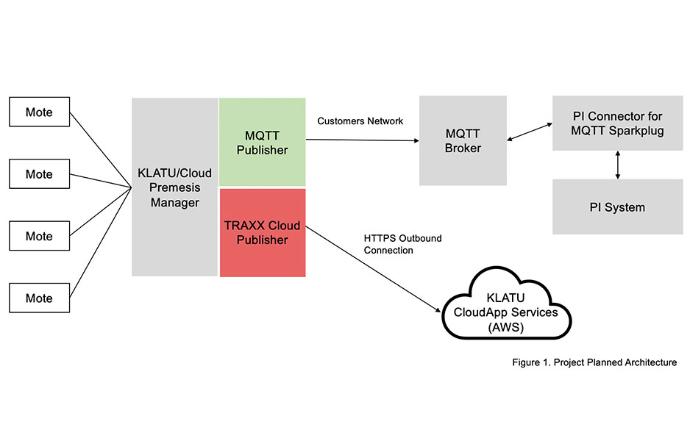 Integrations
TRAXX is Laboratory Monitoring 2.0 and now streamlines your data acquisition by supporting MQTT data protocols which allow information to be consumed by data historians such as OSIsoft Pi.
Learn how the TRAXX and MQTT can integrate with your business systems.