(San Diego, California). KLATU Networks announced today that the Canadian Patent Office has awarded KLATU patent number 2,933,904 that relates to systems and methods for predicting failures in mission critical cold storage systems, as well as analyzing the effectiveness of repairs using machine learning and benchmark scoring technology.
The issuance of the Canadian patent follows an earlier patent issued to KLATU by the European Union with similar claims, further strengthening the Company's intellectual property portfolio.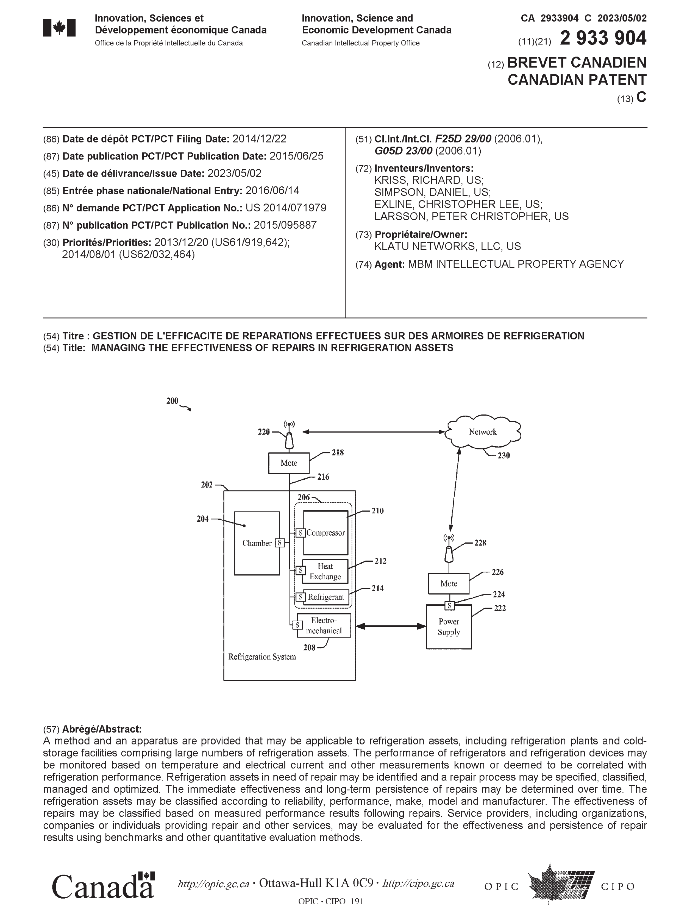 KLATU has achieved an enviable market position and commercial success for its novel asset benchmark scoring technique that classifies refrigeration systems such as ULT Freezers, using quantitative measures of health similar to FICO® credit scoring.
As described in the patent, the Company's machine learning models evaluate sensor data from multiple sources to produce a multi-factor health score, TRAXX/Score™, which quantitatively analyzes and scores the mechanical health of an asset in comparison to its normalized peers in a population.
According to KLATU, its machine learning models can quickly identify eleven failure modes that cause mechanical stress in refrigeration systems, compared to traditional single-sensor (vibration) threshold detection systems that can take months.
KLATU's research indicates that repairs of Ultra-Low Temperature (ULT) freezers average $850 and are often not effective after six months—a dark industry secret. According to KLATU's CEO, Rick Kriss, the company's machine learning technology gives customers a new tool to determine the effectiveness and persistence of repairs over time by make, model, and manufacturer.
According to Mr. Kriss, Service Providers can use KLATU analytics to study ineffective repairs to improve service protocols and training. When the Company's predictive failure and repair management technology is adopted, most customers can achieve 30% or more cost savings from reduced repair, energy, and HVAC costs, and potentially the avoidance of multi-million-dollar product losses.
Share your thoughts on LinkedIn
About KLATU
Marketed under the TRAXX/EKG™ brand name, KLATU is a leading provider of wireless Industrial Internet of Things (IoT) sensors and cloud-based predictive failure software, targeting mission critical cold storage systems in the Life Science and Pharmaceutical industry. Today, eight of the top ten largest Life Science companies in the USA rely on KLATU's predictive analytics to maintain mission critical refrigeration and cell-growth equipment, protecting billions of dollars of pharmaceuticals and life science research.